GPS - IntelliGolf Eagle edition / WM 5.0
7.71
NEW for WM 5.0 - Now includes GPS, plus Scoring, Shot tracking, 30+ Sidegames, 250+ Statistics, and 20,000+ Signature courses. Pocket PC, PC, and Sync-software all-in-one!
Last update
20 Mar. 2006
Licence
Free to try |

$49.95
OS Support
Mobile
Downloads
Total: 378 | Last week: 0
Ranking
#72 in Entertainment
Publisher
Karrier Communications
GPS - IntelliGolf Eagle edition / WM 5.0 Publisher's Description
Awarded "Best Product of the Year" IntelliGolf® just got better. The IntelliGolf Eagle edition software for WM 5.0 includes support for
GPS, Bluetooth, and all 7 S's of Golf
. View distances and track shots from tee-to-green with GPS accuracy. Automate golf scoring and wagering. Evaluate performance statistics and graphs for an unlimited number of rounds, players and courses. Approximate your handicap. Keep caddie-style notes. Pocket PC, Windows PC, and Sync-compatible software are all included. IntelliGolf: Golf's #1 Scoring and GPS Software™ in 125+ countries worldwide!
With the IntelliGolf Eagle edition, now you can access and download any of our 20,000+ signature courses directly to your PC and/or handheld, for use with IntelliGolf. Round set-up is a breeze! Hole yardages, par ratings, hole handicaps, and GPS coordinates are all included. Plus, course downloads are FREE for IntelliGolf users and are less than 5Kb in size. Other companies charge up to $19.95 per course download and can be over 400Kb in size. IntelliGolf saves you time, money, and memory. It is no wonder that IntelliGolf is Golf's #1 Scoring and GPS Software!™
IntelliGolf is the only golf software to include all 7 S's of golf:
Scoring;
Shot tracking;
Satellite GPS;
Sidegame wagers (30+);
Statistics and graphs (250+);
Signature courses (20,000+), and
Sharing of information between handhelds.
BTW - IntelliGolf is being used by hundreds of thousands of golfers worldwide in addition to teaching pros, college teams, and over 40 professional golfers (PGA, EGA, RCGA, etc) and their caddies for reviewing practice rounds, monitoring trends, and tracking shot distances.
Handheld Software
Use the IntelliGolf handheld software to automate golf scoring for up to five players (i.e. fivesome) on the course. Track shots for every club. Survey and view distances from tee-to-green using industry-leading GPS receivers. Evaluate game-improving statistics and graphs. Keep course, round, and hole notes just like the Pro's. IntelliGolf will even add up your group''s wagers using any of the thirty (30) included sidegames (e.g. skins, birdies, stablefords, etc).
The IntelliGolf Eagle edition includes the ability to view distances from tee-to-green with GPS accuracy using industry-leading GPS receivers. With a GPS receiver attached to your handheld, IntelliGolf will provide you with GPS distances from any location on the hole to the 200, 150, 100 yard/meter markers, to the front, center, and back of the Green, and up to three (3) Custom locations (e.g. creek, sand trap, lake, etc) for a GPS-enabled course. Without a GPS receiver, IntelliGolf's new IntelliGPS® technology will automatically predict distances to the 200, 150, 100 yard/meter markers, and to the front, center, and back of the Green from the Tee Box. As such, you do not have to own a GPS receiver to start enjoying the benefits of the IntelliGolf Eagle edition today. Club selection has never been easier.
The IntelliGolf handheld software includes:
Golf scoring for five;
Thirty wagering games;
Shot tracking for all clubs;
Posting and honors display;
Wireless, beaming and color;
Course, hole and round notes;
Traditional and shotgun starts;
Embedded IntelliGPS technology;
Performance statistics and graphs;
Drive, approach, chip and putt tracking;
Unlimited custom wagering options, and
ScorecardView™ display system.
IntelliGolf includes the ability to enter your official USGA Handicap Index, EGA Index, Handicap (e.g. RCGA), or approximate a handicap for you. Under license from the USGA®, IntelliGolf will convert your official Handicap Index to a Course Handicap based upon its Slope® rating. At the end of your round, IntelliGolf will automatically compute your Adjusted Maximum Score for posting. No more charts and tables. IntelliGolf does it for you!
Desktop Software
As an IntelliGolf Eagle edition customer you will also receive our powerful Windows-based PC software. Using your Internet browser and IntelliGolf, you will have free upload and download access to over 20,000 signature courses, including their digital scorecards, for use with IntelliGolf. Now you will be able to upload and download your favorite courses, including GPS coordinates, for all IntelliGolfers to share. Manual scorecard entry is a thing of the past with IntelliGolf.
The IntelliGolf Eagle edition will track cumulative round statistics, print scorecards and export round results in HTML format for posting to the web. IntelliGolf even includes trend graphics. In full color, view trend lines showing how your total score relates to putting, driving, and to greens hit in regulation. Now you can quickly spot areas of improvement and areas for improvement.
Imagine if you could play every hole to your full potential. IntelliGolf can help. In seconds, IntelliGolf will compare your best, average and worst scores on each hole for a selected course. It will then create a Dream Round™ scorecard for you. You will be amazed at how well you would score if you played every hole to your full potential. Plus, IntelliGolf now includes a putt analyzer to help you spot putting trends. Did you know that putting accounts for approximately 40% of your strokes? Improve your putting = lower scores.
The IntelliGolf desktop software includes:
Trend graphics;
Dream round scoring;
Historical round tracking;
Putt analyzer and graphs;
IntelliCap handicap calculator;
Access to thousands of signature courses;
Scorecard printing plus web-based display;
HTML and XML export file capabilities, and
Game-improving statistics in 250 categories.
Join golfers in 125+ countries worldwide that are using IntelliGolf to improve their game and increase their winnings. IntelliGolf -- Golf's #1 Scoring and GPS Software!™ Get it today.
User Instructions: To view our Quick Start Tours (i.e. on-line manual with screen shots) please visit www.intelligolf.com/tour.asp.
Note: This application does not run on "square screen" devices yet (e.g. 240x240). Please send an email to "sales@intelligolf.com" with "IntelliGolf Square Screen Support" in the Subject Line to be added to our list of users requesting square screen support.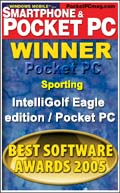 Look for Similar Items by Category
Feedback